Communicate to Get the Most Out of Your Treatment
---
After diagnosis and during ongoing care, you will receive a lot of information and direction from a variety of healthcare professionals. While this can be overwhelming, there are steps that you can take to gain more control over your experience.
Ovarian cancer treatment: A two-way street
Hear from Dr. Graybill, Kim, and Lynne about the importance of open communication with your healthcare team
Patients and healthcare providers vary with regard to their perceptions of how frequently they discuss certain topics.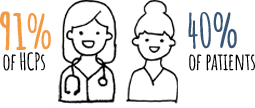 say they discuss expectations for treatment often or at every visit.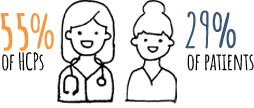 say they discuss recurrence often or at every visit.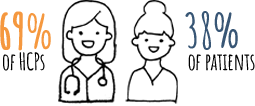 say they discuss the emotional challenges of ovarian cancer often or at every visit.
If speaking openly with your doctor makes you feel a little nervous, you're not alone.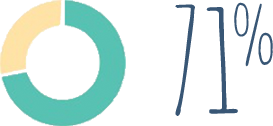 of ovarian cancer patients

reported feeling very anxious before visits to their healthcare provider.
Knowing how to guide clear dialogue with your oncology care team can make your visits more productive and less intimidating.
Before your appointment
Keep a journal or notes about any symptoms or side effects you are experiencing, including frequency and severity
Consider if you want a family member or close friend to come with you to the appointment for support and to take notes
Use this discussion guide to help prepare a list of specific questions for your doctor and prioritize them based on your needs at that moment
During your appointment
Commit to being open and honest with your healthcare team

Make sure your healthcare team knows about your current health status, medications, emotional state, and any changes in your daily life

Be sure to bring extra paper and a pen to write down key points from your conversation

Ask for clarification if you don't fully understand the information given to you

Your healthcare team should help you understand the potential benefits, negative effects, and uncertainties about your treatment options and also which choices best match your goals

If your doctor agrees, record your appointment with your phone so that you can refer back to what was discussed
After your appointment
Even after a very productive discussion with your healthcare team, it's normal for additional questions to arise immediately following an appointment
Be sure to write any post-visit questions in your journal and address them either at your next visit or during a call to your doctor, depending on urgency
If your oncology team offers an online communication system, don't hesitate to reach out with questions between visits